Mooney M20F N6377Q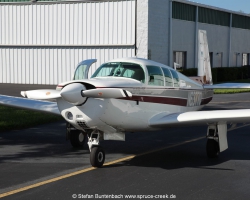 N6377Q is a 1967 Mooney M20F. Serial Number 67-0460. Mooney named the aircraft Executive 21. In July 2015 the tach of the plane showed about 3000 hours.
In 1967, you could get the Mooney M20F with manual or electric gear. N6377Q was delivered with electric gear. N6377Q had been in almost original configuration until 2010.
In 2010, ownership changed and the transition of N6377Q into a new era started. With the final panel upgrade in 2016, which included the install of a Garmin GTN 750 GPS/COM/NAV, a GTX 345 Transponder with ADS-B in and out, a Flightstream 210 and an Aera 660 GPS the transition into modern times is almost completed. The final panel upgrade had been done by Tomlinson Avionics at KFMY (Fort Myers Page Field) Airport in Florida.
Click here for the pictures of the latest avionics upgrade.
Mooney M20F Avionics Upgrades
[one_half][/one_half]
Removal of the old LORAN-Navigator and replacing by an Garmin Aera GPS 550: In 2016, the Aera 550 was removed and a new Garmin AERA 660 was installed at the location of the old Narco indicator. It is held in place by a RAM mount and connected to the aircraft power and interphone. The Aera 660 communicates via Bluetooth with the Garmin Flightstream 210 and displays weather, Notams, TFRs … and traffic. Also it can share the flightplan with the GTN 750 and an IPAD. Via the audio panel connection, the Aera 660 does most of the calls of a typical Ground Proximity Warning System: It warns for obstacles, terrain closure or calls "500"shortly before landing, like an Airbus or a Boeing.
Removal of an old KING KX170 COM/NAV and replacing by a Garmin GNC 300 XL GPS/COM.
Install of an ADSB-out transponder: Garmin GTX 330 ES / The GTX 330 ES was removed in 2016 and a new Garmin GTX 345 with ADS-B in and ADS-B out was installed.
In 2016, the old NARCO NAV/COM and indicator were removed and a new GARMIN GTN 750 NAV / COM / GPS was installed instead. Together with the GTX 345 this install makes the plane ready for the FAA ADS-B-requirements of 2020.
To enable flightplan-transfer and the display of weather and traffic, a Garmin Flightstream 210 was also installed. It links the certified equipment (GTN 750 GPS and GTX 345 Transponder) to the mobile and removable equipment (IPAD and Aera 660 GPS).
Installation of an intercom/audio panel with integrated satellite radio: PS Engineering Audio Panel PM8000SR.
Removal of the old "shotgun"-panel and installation of a new modern panel with an ASPEN 1000 PRO PFD as primary flight and navigation display.
Installation of an JPI-Instruments EDM 930 primary engine Monitor and removal of all original engine, fuel … gauges.
Removal of old 121.5 ELT and Install of an Kannad AF Integra ELT with integrated GPS position source and remote switch in panel.

Mooney M20F General Upgrades
Installation of shoulder harnesses at the front seats.
Powdercoating of yokes and flap handle.
Installation of a Concorde sealed battery.
Replacing of the old generator by a new Planepower alternator with a new regulator.
Removal of the old, original propeller and installation of a new Hartzell Top Prop.
Installation of new carpet, upholstery and new interior. It is now very relaxing to fly longer distances.
Installation of a new windshield.
Installation of LED-lights inside and outside, including a certified LED Landinglight.
Installation of GAMI-Injectors and Fine Wire sparkplugs.
Aerodynamic upgrades: lower cowl enclosure fairing, oil cooler relocation, landing light lens cover, aileron gap seals, flap gap seals, rudder and elevator hinge covers, wheel well liner, brake wheel cylinder rotation.
In addition, more work had been done: overhaul of autopilot components (Brittain Autopilots), overhaul of fuel pumps and fuel servo, replacement of fuel level sensors, install of a new engine driven vacuum pump, install of new landing gear biscuits, replacements of engine mounts, replacment of nose gear tross, new baffles, adjustment of rigging through Don Maxwell in Texas, install of LoPresti Hubba Hubba caps for the landing gear.